Have you been wondering how to make those videos with the sound wave animations that are popular on Facebook, Instagram and other social media sites? Below, we'll show you two different methods you can use to create videos with soundwave animations from audio sources like mp3 and wav files.

1) Using video editing software

Video editing software such as Adobe Premiere, After Effects and Final Cut Pro give you total control over the video that you want to create. These tools are built for professionals, and are capable of layering all kinds of effects on top of video, including visualizing audio through the use of animated soundwaves.

If you're using After Effects, first import your audio into your project. Next, drag your audio onto the timeline for the current composition, then create a new layer and select "Effect -> Generate -> Audio Spectrum".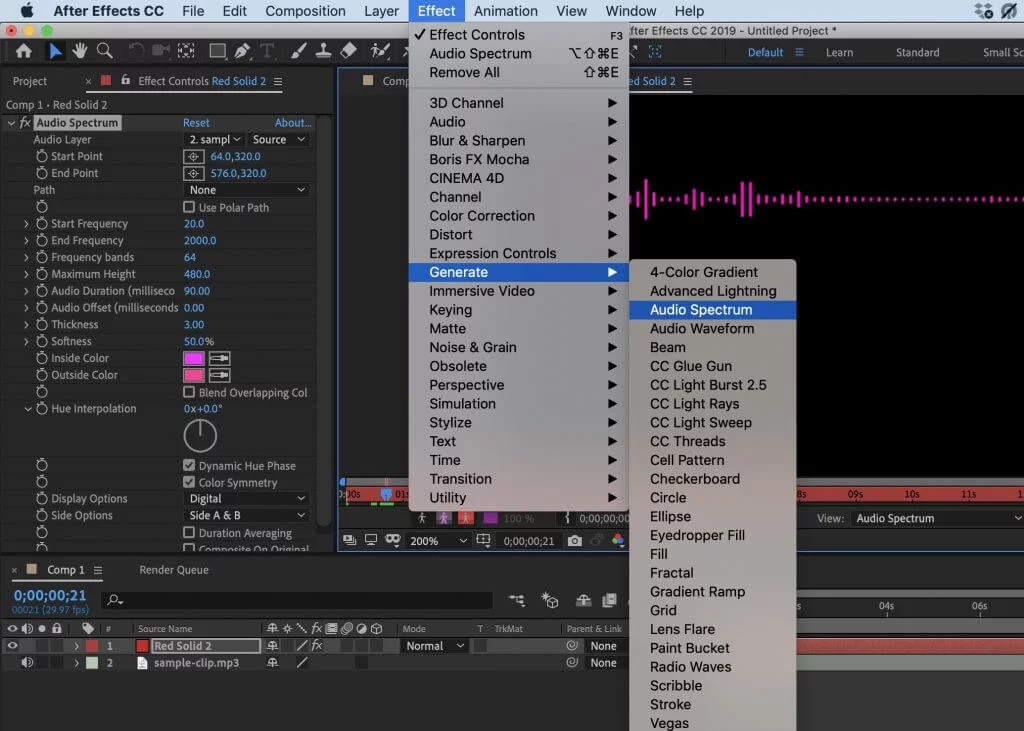 In the settings panel, select your audio in the dropdown labelled "Audio Layer" and customize the rest of the settings as you see fit. Once you've got your waveform and audio, you'll want to add text and imagery before your video is ready to render and share to the world.

These types of video editing suites are designed for professionals, and typically have a steep learning curve to get up and running. If you're looking for a simpler solution, an online audiogram generator is probably better for you.

2) Using an audiogram generator

Using a web-based tool like Audiogram makes the process of creating videos with embedded soudwaves simple. You can produce a professional looking video without the need to invest time and money learning how to use video editing software.

Start by uploading your audio file to use, or if you're looking to create a clip from an already published podcast, you can use our Apple Podcast search to find the episode.
Once you've loaded your audio, the next step is to choose a section from that to use. In general we recommend keeping your clip times short. The ideal clip is just long enough to get someone hooked to hear more, remember that attention spans are short on social media.

If you'd like to include animated captions into your video (like in the examples above), you can choose to do so once you've selected your clip. We use artificial intelligence to pull out the transcript of your audio automatically, but you'll also be given the chance to edit and adjust the text if needed.
We've created sets of templates that you can quickly customize with your own imagery and colors to create video that's always on-brand, and without the need to hire video producers and graphic designers.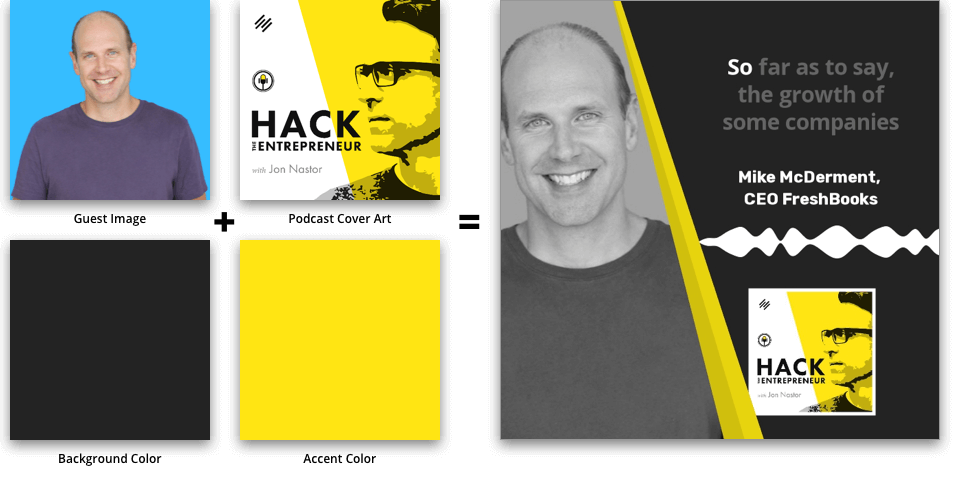 Once you've chosen and customized your template, simply click to export, and your video file will be rendered and delivered right to your browser. From start to finish, you can create your own audiograms in just 5 minutes.