With roughly 2.85 billion users worldwide, Facebook remains the biggest social media platform. Since Facebook also owns Instagram, which has the fifth-highest number of users, any tool that makes marketing your podcast easier on these two channels is worth a look.
Enter Facebook Creator Studio, a free tool designed to help businesses get the most from marketing on Facebook and Instagram.
In this article, we'll highlight some of the time-saving and post-boosting features you might not be aware of.
While it doesn't support other social media platforms, such as LinkedIn or Twitter, Facebook Creator Studio offers plenty of useful features that you might not otherwise have access to unless you pay for a third-party tool, such as Buffer or Later.
We especially like the scheduling and calendar features, the ability to upload and schedule multiple videos in one go, and the option to test and compare posts before they're added to your page.
Linking your accounts is straightforward, and Facebook talks you through the process. So, we're going to skip the set-up phase and go straight to how you can best use Facebook Creator Studio to promote your podcast.
1. Manage Your Posting Schedule
Keeping track of your content calendar is a major headache for any marketer. That's why scheduling tools have become so popular.
Facebook recognizes this challenge and provides the ability to schedule posts directly from within the Creator Studio.
You can add feed posts, stories, and videos to Facebook and grid posts and IGTVs to Instagram. Sadly, you can't yet schedule Instagram stories from the Creator Studio.
For podcasters, having the option to schedule posts in advance makes it easier to manage your promotional calendar. You can create and schedule all your pre- and post-release content for each podcast episode in one go.
This saves you plenty of time. It also means nothing gets forgotten. No more coming to the end of a hectic day to find you've failed to share your latest podcast episode on social media.
To schedule posts, just click on the green button in the top left.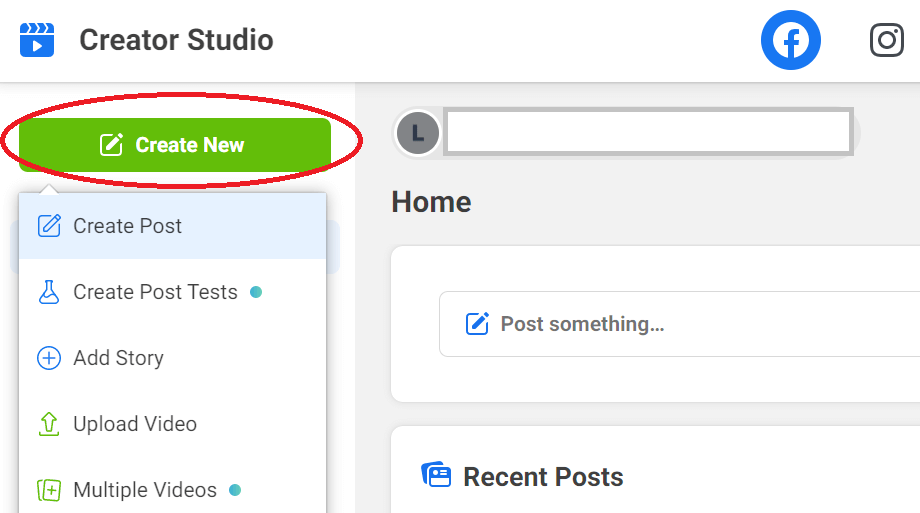 Select the type of post you want to create, then add your post caption and media.
When you're ready, use the little arrow next to the blue publish button in the bottom right to schedule the post instead of publishing it immediately.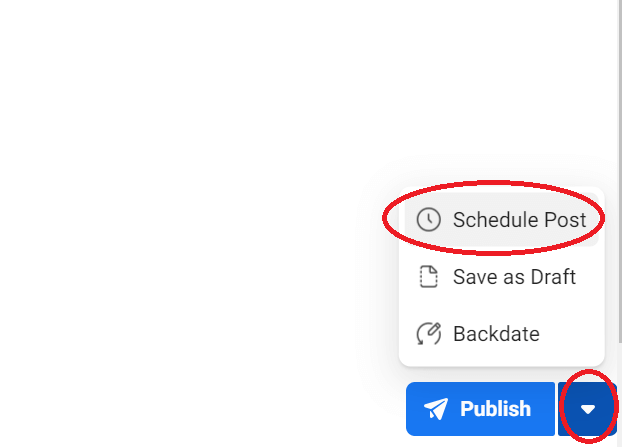 Select a date and time and click save.
You can keep track of all your scheduled content using the calendar view. You'll find this at the bottom of the left-hand menu. Look for the little calendar icon.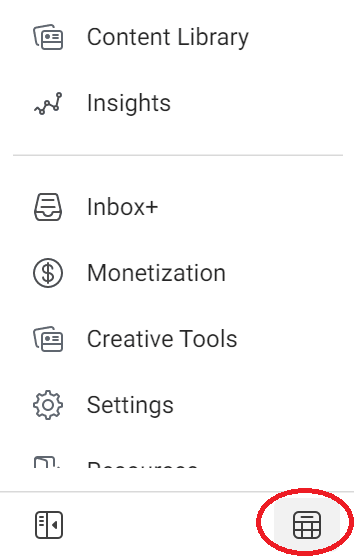 2. Bulk Upload and Schedule Videos
If you are using video clips, such as audiograms, to promote your podcast, there's some even better news. Creator Studio lets you upload multiple videos to Facebook and schedule them all in one go.
So, if your marketing plan for each podcast episode includes a couple of different audiograms and some behind-the-scenes footage, you can upload them all together and choose your posting schedule to attract as many listeners as possible.
You'll see the option to upload multiple videos when you click the green Create New button. Once you start uploading your files, you'll be able to select one or more and choose when to schedule them, using the Schedule Selected button at the top.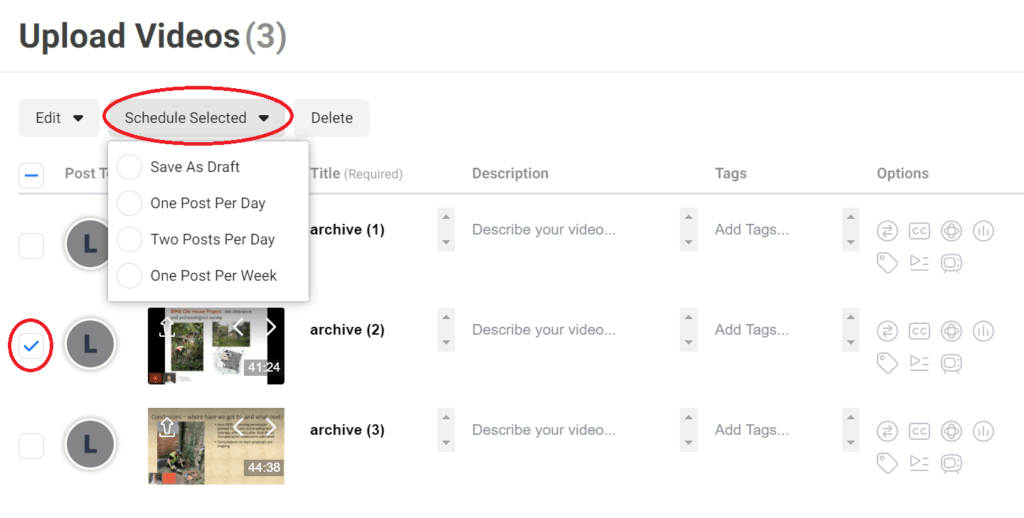 3. Post Testing
A/B testing is a vital process for any marketer. By comparing two (or more) variations of your post, Facebook Creator Studio will determine which one your audience responds best to before it's shared more widely.
Not only does this help you retain your existing listeners and attract new ones, but it also gives you valuable insight into the content that resonates with your audience. The more you can learn about their preferences, the better you'll get at creating marketing content that gets your podcast noticed.
Facebook Creator Studio serves up the goods once again, letting you test your organic posts on your followers before the best-performing one is added to your page. This is one of its newer features and is well worth using to test your podcast marketing.
The one drawback here is that you can only test video posts against other videos. But you can test image, link, and text posts against one another. And it will help you tweak your video posts to get the best combination of title, description, thumbnail, video length, etc.
Again, you access Post Testing from the green Create New button. You'll need to select which page you are testing the post for. You can add up to four variations.
Choose the content type of the first post and then click the + New button to add variations. If you select video as the content type, you'll only be able to add other video posts.
You can also duplicate the previous post and then make small changes to see which works best.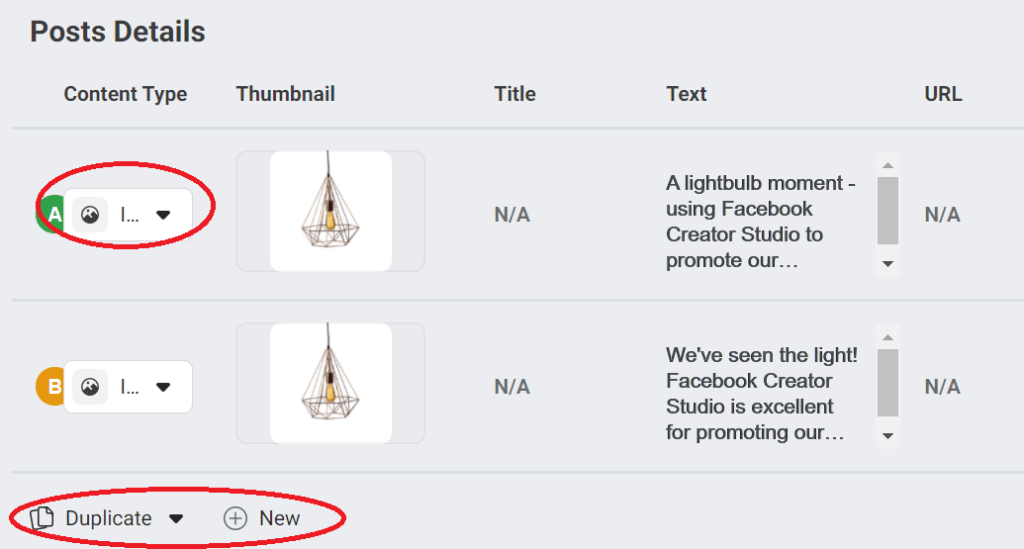 Once you are happy with all your variations, you can either start your test straight away with the publish button or schedule it for a time when you know your audience is active.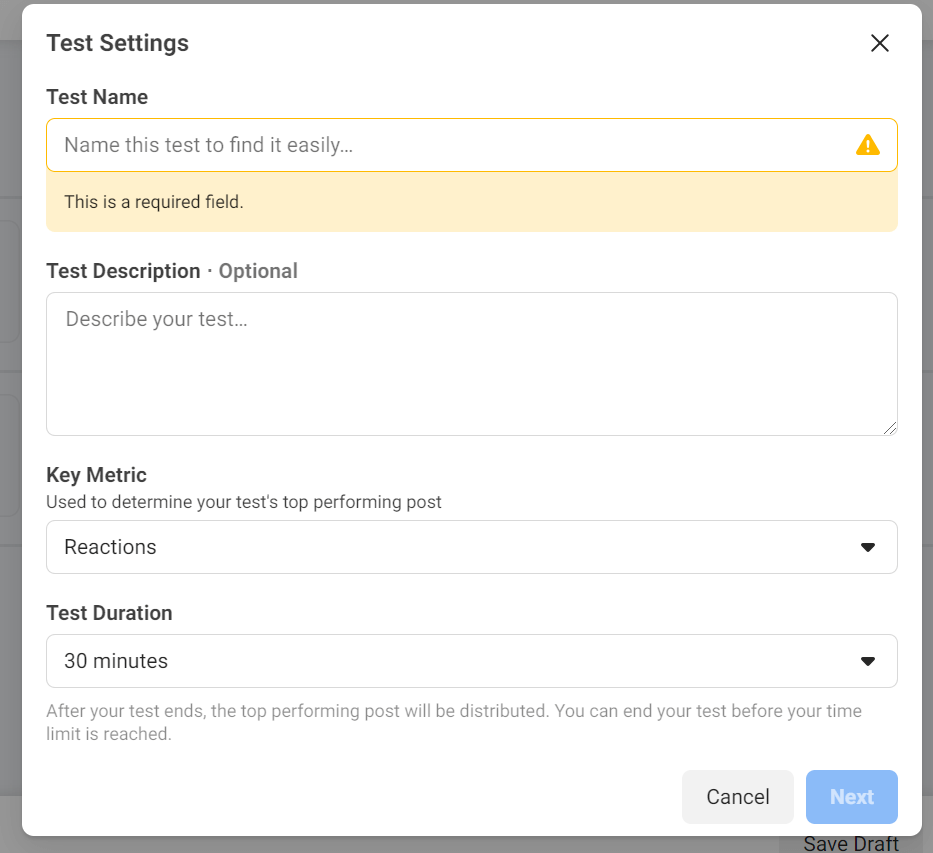 You also choose how long your test will run for and what metric Facebook should use to measure success. You can run it for a maximum of 24 hours.
Facebook will serve each variation to a subset of your audience and track how it performs, based on the metric you chose. At the end of the test, it will take the most successful one and post it to your page.
You can also choose to end the test early and post the best-performing variation at that stage.
Other Features
If you are using Facebook and Instagram to market your podcast, we think the three features above will be invaluable. But there are plenty of other useful tools built into Creator Studio to help you take your social media marketing to the next level.
There's an inbox to help you manage engagement with your listeners. Social media is a two-way conversation, after all.
The content library keeps all your posts organized and includes filters, so you can easily find and track the performance of individual posts.
And the insights give you more analytics than you can get when you look directly from your page. Retention and loyalty metrics are especially useful in letting you keep track of follower engagement.
There are additional video metrics too. These will be valuable if you are using audiograms and behind-the-scenes footage to promote your podcast episodes.
In all, we think Facebook Creator Studio is a handy tool that can help you market your podcast on Instagram and Facebook more effectively.